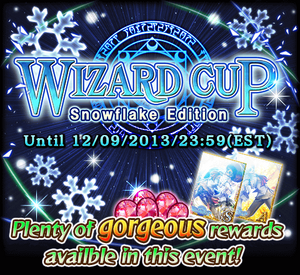 Duration: December 6th to 9th, 2013
This is the second event in the series of Wizard Cup Tournaments. You compete within your own ranking making it possible for low level players to place very highly. This Wizard Cup Edition features 2 spirits as daily ranking rewards.
Rewards may take up to two hours to be processed before they are awarded the next day. (e.g. 12:00 AM ~ 2:00 AM)
Specials In Crystal Invocation
Edit
Reward Spirits
Edit
Daily Ranking Rewards
Edit
These prizes are given depending on your rank at the end of each day. Your score then resets for the next round.
Accumulated Points Rewards
Edit
These are for your total point score each day. Your accumulated score resets each day.
Ad blocker interference detected!
Wikia is a free-to-use site that makes money from advertising. We have a modified experience for viewers using ad blockers

Wikia is not accessible if you've made further modifications. Remove the custom ad blocker rule(s) and the page will load as expected.