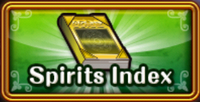 This feature was added on Feb 24, 2014. It catalogs all the Spirits you've obtained. Rewards are given for certain milestones. For a list of the available Spirits check out the Spirits page.
We're working on a Google Doc to complete the index. You can find it here .
There's a category for pages that are missing their index numbers. Some of these simply do not appear in the index, notably special evo spirits like Christmas Presents, Candy, and the Cogwheel of Time.
| Spirits | Reward |
| --- | --- |
| 5 | 200 FP |
| 10 | Wizard Book (Crimson) |
| 15 | Wizard Book (Azure) |
| 20 | Wizard Book (Lightning) |
| 25 | 1 Crystal |
| 30 | Scarlet Dryad |
| 35 | Jade Dryad |
| 40 | Moonlight Dryad |
| 45 | 250,000 Gold |
| 50 | 2 Crystals |
| 60 | Wizard Book (Crimson) |
| 70 | Wizard Book (Azure) |
| 80 | Wizard Book (Lightning) |
| 90 | 500,000 Gold |
| 100 | 3 Crystals |
| 125 | Holy Tree of Sunbeams |
| 150 | Holy Tree of the Sea |
| 175 | Holy Tree of Prayer |
| 200 | 4 Crystals |
| 250 | 1,000,000 G |
| 300 | 5 Crystals |
| 350 | 1,500,000 G |
| 400 | 6 Crystals |
| 450 | 2,000,000 G |
| 500 | 7 Crystals |
| 550 | 2,500,000 G |
| 600 | 8 Crystals |
| 650 | 3,000,000 G |
| 700 | 9 Crystals |
| 750 | 3,500,000 G |
| 800 | 10 Crystals |
| 850 | 4,000,000 G |
| 900 | 10 Crystals |
| 950 | 5,000,000 G |
| 1000 | Shulfas (Artist Girl) |
Spirits Index
Edit