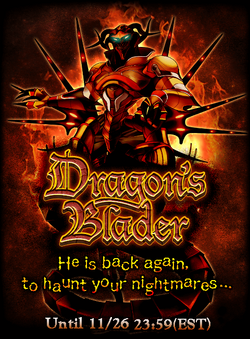 Runs: Oct 18 (0:00) to 22 (23:59), 2013
Reran: Nov 22 to 26 (23:59 EST), 2013
Note that enemies drop at max level.
Specials in Crystal Invocation:
Edit
The first run of this event had a random assortment of books for the first 3-4 completions.
Glaciers Birth (☆, Rank 1, 10MP) (~6,000 G, 44 EXP)
Dungeon of Thunder (☆☆, Rank 1, 20MP) (~16,000 G, 60 EXP)
Dragons Fear (☆☆☆, Rank 1, 25MP) (~62,000 G, 69 EXP)
Dragon King (☆☆☆☆, Rank 1, 30MP) (~300,000 G, 220 EXP)
Ad blocker interference detected!
Wikia is a free-to-use site that makes money from advertising. We have a modified experience for viewers using ad blockers

Wikia is not accessible if you've made further modifications. Remove the custom ad blocker rule(s) and the page will load as expected.